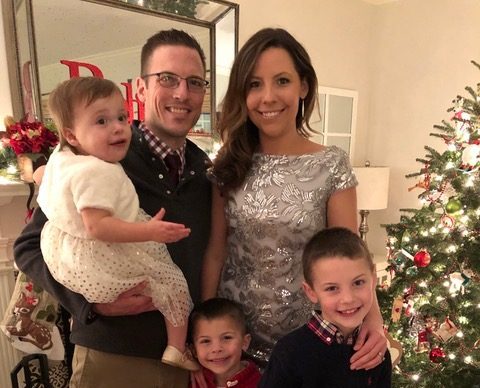 I knew Meghan as an active member of our parish family and school parent, and lately as a leader of the SPA Mom's Group. I have worked alongside Meghan at our Baja Fish Taco night in Lent and I was impressed with her skills in running a smooth operation of what was a one day transition to take-out only of our second Baja night this year. I have enjoyed the company of her husband Tom and their three children at parish events and common friends celebrations. We talked about faith, family, shared values and sometimes discussed food choices on social media 🙂
The interview process has been a privilege to me and to the other 5 committee members to witness many other values and skills that Meghan possesses. She distinguished herself throughout the process as highly qualified for the many "hats" the parish manager position requires to wear. Rooted in the faith, with a strong education and work experience of management in hospitality and lately, real estate, Meghan comes to us with a strong desire to put her talent and expertise to the advancement of our parish family. This is what Meghan wanted to share with us:
"I am beyond thrilled to join the incredible staff at St. Paul the Apostle as the Parish Manager.A little bit about me: I grew up in a small town in Southeast Missouri in a loving, tight knit family that continues to be very involved in the Catholic Church. My parents instilled in me the importance of serving God by serving others. My passion for serving others led to my degree in Hospitality from the University of Missouri. I worked in various sales management roles for Marriott over the last 11 years.
After marrying my husband Tom and moving from Chicago to Grand Rapids in 2011, we became parishioners at St Paul the Apostle. As our family grew, I became more active in the school and church community, and I experienced a renewed sense of belonging and purpose. When I learned about this opportunity at the church, it felt like the answer to my prayers. I wanted more opportunities to help people and to be more involved in my local community. I am excited to continue the great work our parish is doing to make St. Paul the Apostle a place for all to feel welcome and to grow in their relationship with God.
Tom and I have three sweet children–Collin (8), Leo (6), and Nora (2, going on 16). I look forward to getting to know our community even better and am grateful for this incredible opportunity to serve God and St Paul the Apostle Parish.
-Father Peter