Kent County Health Screener
Every day parents will receive a text or email based on communication preferences. A form for each student needs to be submitted prior to 7:30am each day. School will contact families if the form is not received. We are in the pilot program with Kent County so please have patience with changes. Please fill out the form below to provide communication preferences for this application.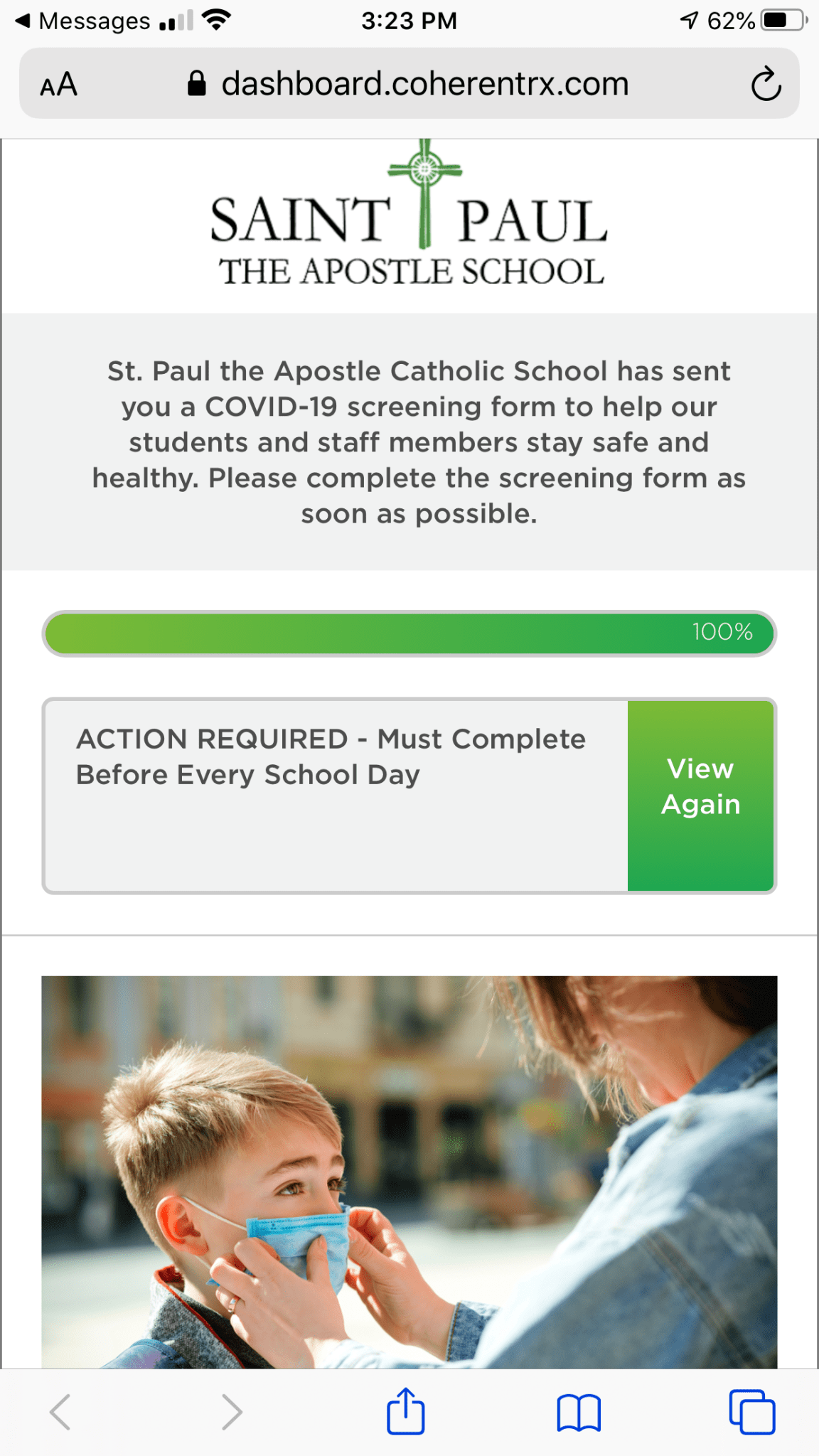 Our SPA Roadmap
Our Learning Roadmap offers an overview of what school at SPA looks like in 2020-2021. We brought a full on-campus learning experience with the option of flexible virtual learning, we are calling this blended learning. Concretely, this means that we are able to maximize the use of our learning spaces: using outdoor spaces and distancing in the classroom while still allowing interaction and relationship building. While simultaneously offering a virtual experience to those who choose and or need it.
Concurrently, throughout the 2020-2021 school year, we will remain agile to readily respond to individual needs. As the circumstances mandate, we are ready to flexibly pivot across our models ensuring the continuity of engaging and flexiblity learning that is responsive to the current pandemic. Each model comes with adapted social-emotional programs and child protection policies to support the mental and physical well-being of our students as they learn at school or at home.
Global conditions and government responses are dynamic with frequent changes. At SPA, we will continue to follow the guidelines of the Kent County Health Department and prioritize the health and safety of our community
We understand that during this time of change, many in our community have questions and concerns. We hope to address some of these here:
How should I talk to my children about COVID-19?
It is important to talk to your children or teens about coronavirus and answer their questions and comments. Click here to view a child-friendly video describing coronavirus in a child-friendly manner.
Below follows a list of additional resources:
As a parent:
For yourself:
What if I am worried?
In situations like these, it is normal to be afraid or worry about the unknown. In the question above (How should I talk to my children about COVID-19?), we offer multiple resources on how to talk with young people and adults to cope with fear and anxieties related to the virus. We have also added this FAQ section offering an overview of our precautionary measures at SPA. Should you feel overwhelming worry or anxiety, we advise you seek professional mental health support.
For medical advice the KCHD has established a hotline: 888-535-6136
How do I prepare my child to wear a mask?
We highly recommend prepping your child to wear a mask. You can find helpful guidance here.
Does SPA follow official health official guidelines?
Yes, at SPA we are following the situation carefully for any updates and/or rapid changes in the spread of the virus and follow the advice of regional and national health authorities, including the KCHD (Kent County Health Department) and the CDC (Centers for Disease control and prevention). Both of which have extensive expertise in managing infectious diseases.
Common signs of infection include respiratory symptoms: fever, cough, shortness of breath and difficulty breathing. In more severe cases, infection can cause pneumonia, severe acute respiratory syndrome, kidney failure and even death. People with heart and lung disease or weakened immune systems, as well as infants and older adults, are at higher risk for upper and lower respiratory tract illness.
Will in-school events take place this year?
We are planning events with current guidelines and will continue to review government guidelines as events approach to determine how we can best deliver safe on-campus events, with our students, families, staff members and community members health always the priority.
How can I stay healthy?
Wash your hands with soap and water frequently, and certainly after sneezing or before/after touching your face or a sick person. Cover your mouth and nose with a tissue or your sleeve (not your hands) when coughing or sneezing. Avoid touching your eyes, nose and mouth. Avoid contact with others who are sick and stay home while sick.
A good indicator of the time to seek medical attention is your body temperature. Check your temperature twice a day. A temperature of 100.4 degrees F or higher accompanied by a cough and difficulty breathing signals the time to contact your doctor for assistance.
In all situations where you find yourself, be sure to practice social distancing and virus hygiene.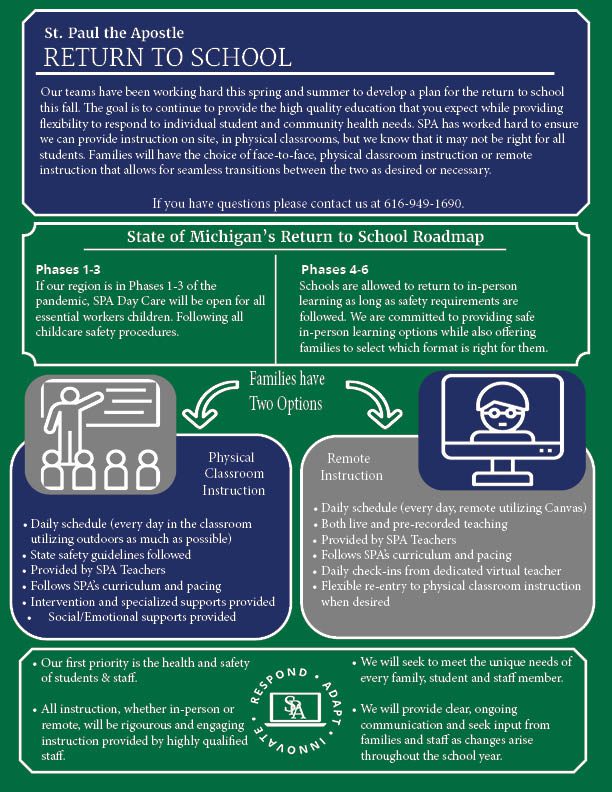 Notice: In compliance with the Michigan Department of Treasury Teacher and School Support COVID-19 Grant, eligible classroom teachers have been identified and provided form 5734 via email on 11/5/2020. Any questions or written appeals must be directed to mmorrow@spagr.org by December 4, 2020.  
This is the requirement:  District and nonprofit nonpublic school must post a notice that the eligible classroom teachers and school support staff have been identified and provided Form 5734 by November 9, 2020 to provide an opportunity for written appeals of eligibility status on a school website and at least 1 other means of widely used communication. This notice shall provide an opportunity for any classroom teacher or support staff to appeal eligibility status or the FTE calculation to the district or nonprofit nonpublic school in writing by December 4, 2020.