The Breton Village Green Bible Group started meeting in 1983, and after 36 years still gets together every Tuesday to study the readings for the upcoming Sunday. Most of the members are not able to get out for Mass, and so every second Wednesday, Father Peter visits to worship with them. Recently, many Hispanics have joined the Bible class, taught by St. Paul's Patty Korte, Chris Visner and Karen Shively, and they provide the music. After mass the group enjoys coffee and dessert, and fellowship with Father Peter.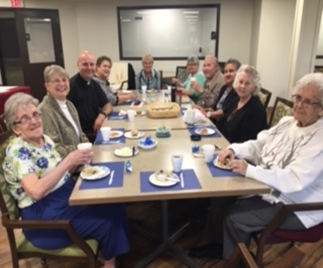 Hispanic members of the BVG Bible Study provide music for Wednesday worship with Father Peter.

Father Peter celebrates Mass with the residents every second Wednesday, as many of them are not able to get out for weekend liturgies.