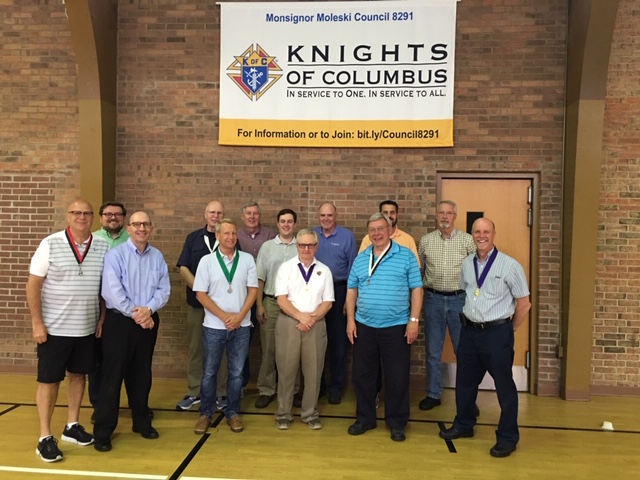 Chaplain: Fr. Peter Damian
Grand Knight:  Ken Grachan kengrachanllc@comcast.net
Deputy Grand Knight: 
Treasurer: Joe Schneider joe.sch0912@gmail.com
Recorder: Paul Kennedy Paul.Kennedy09@gmail.com
Chancellor: Charlie Jilek c.jilek@sbcglobal.net
Financial Secretary: Dan Hutchins dhutchins@bsihealthcare.com
Public Relations: Joe Prihoda joelindapro@att.net
Membership: John Racicot rac49546@gmail.com
(Elections are held every other odd-numbered year for a service of two years.)
The Knights of Columbus is a Catholic men's fraternal benefit society that was formed to render financial aid to members and their families. Mutual aid and assistance are offered to the sick, disabled and needy members and their families. Social and intellectual fellowship is promoted among members and their families through educational, charitable, religious, social welfare, war relief and public relief works.
Our four core principles are Charity, Unity, Fraternity and Patriotism.
Our Chapter raises substantial funds for the St. Paul's Scholarship Fund [The Donnelly Fund]; Central Catholic High School Scholarship Fund; Montfort parish in Haiti; HELP Crisis Center; In the Image; God's Kitchen; the Dominican Sisters at Marywood; our own Food Pantry and the Mentally Challenged, to name but a few of the causes we support.
We also assist at special events such as the Michigan Blood Drive, Memorial Masses, Lenten meals, our Parish Picnic and many other needs of St. Paul's.
All Catholic men of the parish are invited and welcome to become members of the Knights of Columbus. We encourage you to talk to one of our members, learn more about our charitable organization and become a member. This is a great way to meet other Christian men and be involved with your parish as your time will allow. We hold one meeting on the second Tuesday of the month in the Antioch Room from 7pm, for approximately an hour.
For more information please call John Racicot, 616-541-7228