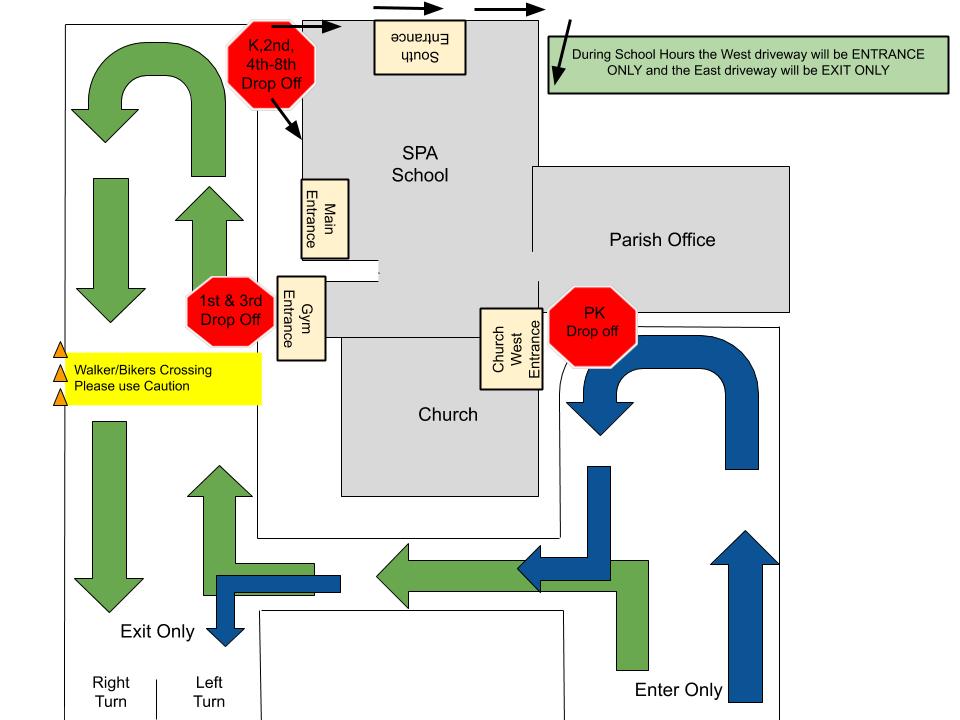 Drop off: 7:40am-8am (Bell rings at 8) Kids need to be in classrooms by 8am.
PK – West Entrance of Church:(BLUE LINES on Diagram)
Parents park, get kids out of the passenger side door (carseat), walk them to the doors. The teacher will meet you at the door and you can say goodbye before your child walks into the building. Return to your car and follow the line to either drop off older students or exit.
1st & 3rd Grades – East side of building Gym Entrance: (GREEN LINES on Diagram)
Stop your car, others behind wait in line. Let kids out of the right side of the car, shut the door and continue down the line.
DO NOT PASS cars on the left, you must wait in line!
All other Grades – East side of building in parking lot: (GREEN LINES on Diagram)
Stop the car in spaces along the sidewalk, let students out the right side of the car door. Shut the door, continue in line through the turn around and back out the one way exit.
Kids will proceed to doors as follows:

2nd, 4th & 8th Grades – line up outside classroom door (parking lot facing)
5th & 6th Grades – Follow sidewalk to outside classroom door (facing baseball)
7th Grade – Follow sidewalk around school to Antioch Hallway Doors.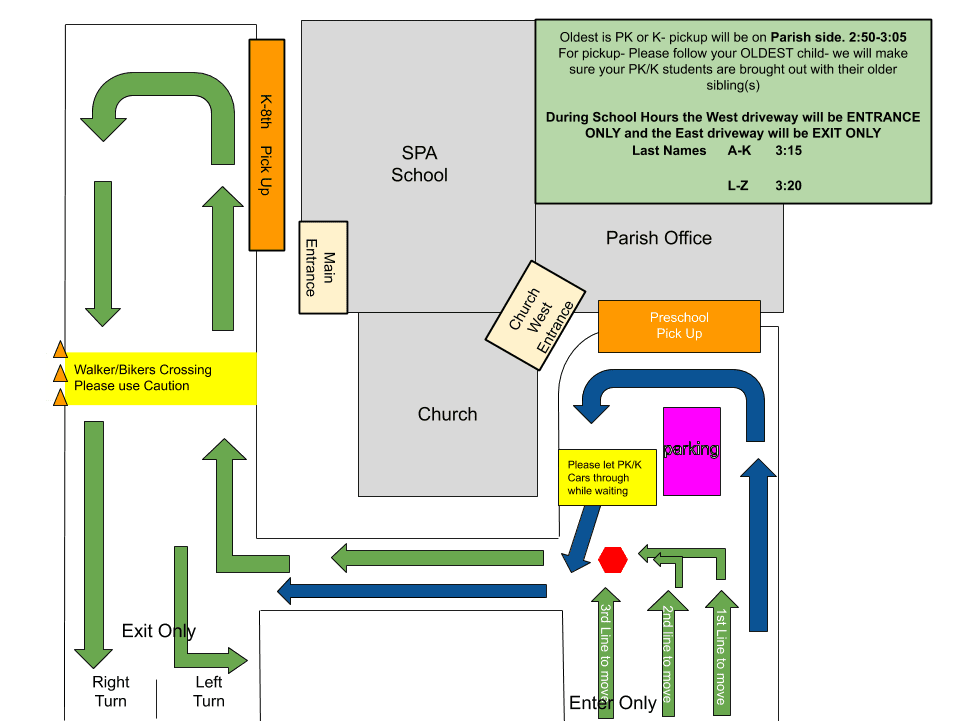 Pick up: (Last Names A-K arrive 3:15pm. Last Names L-Z arrive 3:20pm) Unless your oldest is PK or K: Parish side 2:50pm-3:05pm
Please do not arrive earlier than 3:05pm for the first wave and 3:15pm for the second wave.
Walkers & Bikers will be released at 3pm. If you would like to pick them up, you do so on Woodlawn.
Oldest child is PK or K: West Side Entrance ( BLUE LINE)
Pick up times is: 2:50-3:05
Park the car, teacher will bring child to you, get child in car. Proceed to exit.
Oldest child is 1st-8th: East Side (GREEN LINE)
In the pick-up line, place your school provided car number on the rear view mirror.
Follow the pick-up line to pick-up area (there will be spots indicated with signs)
Children will be released from their classrooms directly to their cars.

Younger children will be paired with older siblings so they easily get to the car.

Once kids are securely in the car, follow the turn around and exit