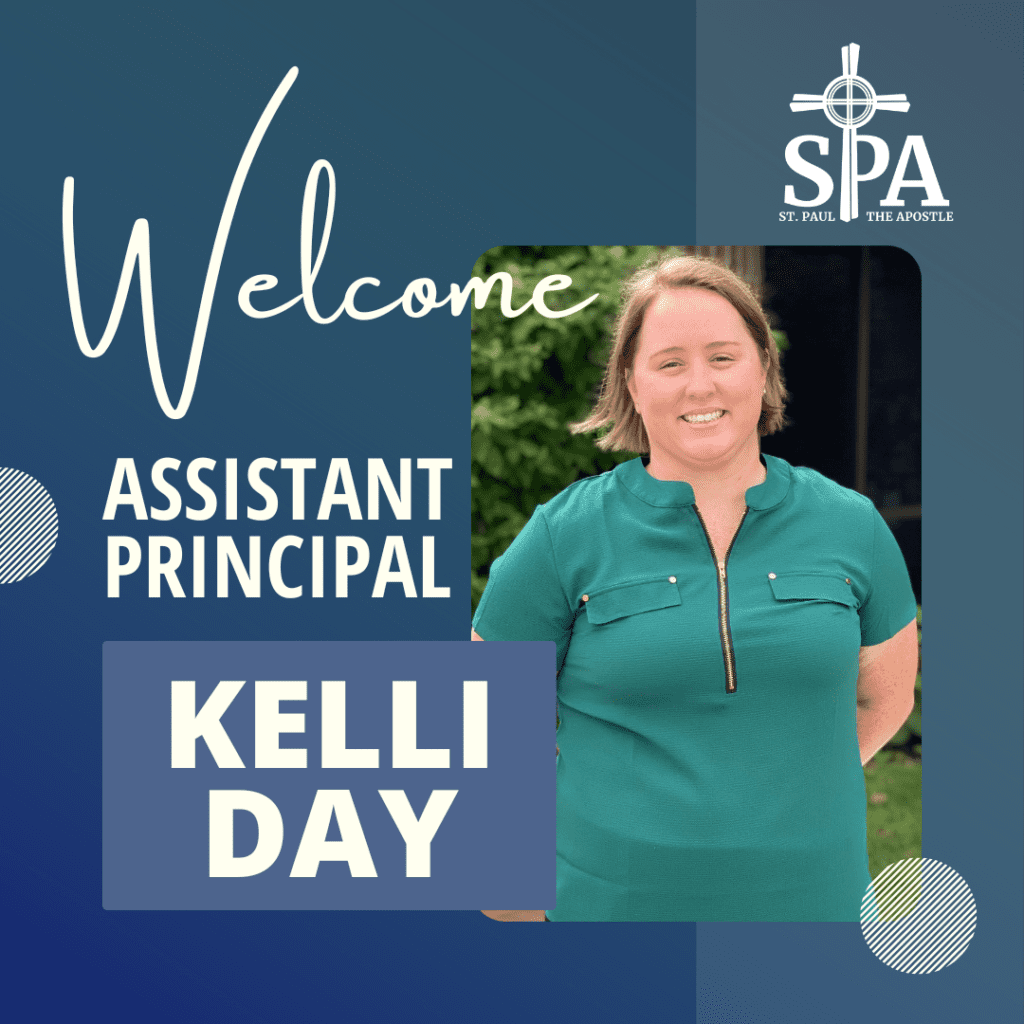 Dear St. Paul the Apostle Community,
This spring, SPA set out to hire an Assistant Principal to continue to support our mission of "Excellence in All Things". We are pleased to announce that Ms. Kelli Day has accepted the position of Assistant Principal at St. Paul the Apostle! Ms. Day will be starting with us officially the week of July 25th.
Our interview team, composed of representatives from school staff, SPA's Board of Education, as well as parish staff, met with several candidates for this position over the past month. Ms. Day rose as the top candidate out of several highly qualified professional educators. Our team was looking for a leader who is highly effective at improving teaching and learning and focused on the growth of students and staff within a strong Catholic identity. We looked for a leader who could easily connect with parents, students, and staff, and who is both driven and dynamic in their approach to teaching and learning. Ms. Day demonstrated energy and passion to help St. Paul the Apostle grow in its mission to deliver an innovative and dynamic Catholic education.
Kelli has spent the last eight years at Byron Center Public Schools where she served in a multitude of capacities. Most recently she served as a Special Education teacher and previously as a Middle School English Language Arts. While at Byron Center, she had many leadership roles including serving as School Improvement Chair, Guiding Coalition Leadership Team member, Department Lead, as well as assisted the Kent ISD in professional development book studies. Kelli earned her Master's Degree in Educational Leadership from Western Michigan University. She also holds the Michigan School Administrator Certificate. Ms. Day is certified in teaching K-5 all subjects, 6-8 Language Arts, and K-12 Learning Disabilities. With both her experience and training, Ms. Day will bring many strengths to our St. Paul leadership team and our school.
St. Paul the Apostle has a rich history in Excellence and Community. I am excited to welcome Ms. Day into our community. Please join me in welcoming Ms. Kelli Day to St. Paul the Apostle.
Sincerely,
Michelle Morrow
Principal
---
READ KELLI'S LETTER BELOW
Dear St. Paul Community,
My name is Kelli Day and I am extremely excited to be joining the staff at St. Paul the Apostle as the new assistant principal. I am so grateful to have the opportunity to work in the Catholic school setting and meet all of our amazing students.
I am originally from Traverse City and attended Grand Traverse Area Catholic Schools (St. Francis). In 2013, I completed my Bachelor of Arts in Elementary Education at Aquinas College. In 2019, I completed my Master's degree in Education Leadership through Western Michigan University. I have taught at Byron Center Public Schools for the past 8 years and have many varied teaching experiences. I have spent time as a reading interventionist, special education teacher 5-8, and ELA teacher 7-8.
Outside of my love of teaching, I enjoy getting outside and experiencing Michigan. I kayak quite often and enjoy golfing. When Michigan weather cooperates, I also enjoy running and biking outdoors. I love reading and rarely do I leave home without a book in my bag. I am a firm believer that books are meant to be read, loved, and shared. I look forward to exchanging recommendations with our students and hopefully parents.
I am so excited to join the SPA community. I have volunteered at SPAktoberfest and a few Baja Fish Taco nights. During this time, I've experienced firsthand the welcoming spirit of the St. Paul community and Parish. While I am currently a member at the Cathedral of St. Andrew, I look forward to seeing many of you at St. Paul's on Sundays.
I am thrilled to join the team at St. Paul and am eager to meet all of you and our amazing students. I will be in the building periodically over the next few weeks and throughout all of August. If you happen to come in, please stop in the office as I would love to meet you. I have heard great things about SPA and am grateful to have the opportunity to join Mrs. Morrow in supporting our students and staff. I hope you enjoy the rest of the summer and look forward to a great school year.
Kind regards,
Kelli Day